The benefits of using Remote Infrastructure Management (RIM) to support your IT Infrastructure are quite substantial. The biggest benefit is that by offloading day-to-day monitoring and management responsibilities from your internal IT staff, you free them to conduct more strategically oriented activities. You aren't in the business of IT management. IT has to be a enabler to your larger ambitions. As a result, you should not have to develop all layers of the IT discipline-like architecture, implementation, ongoing monitoring and management. Your biggest return comes from having your resources focused on IT innovation-not on 24x7x365 management!
By turning to an outside party for RIM based services, you will be able to focus on innovation. Once you have entrusted the job of IT infrastructure management to your partner, you will reap the benefits from the technical expertise that are brought to the table. Your infrastructure will run more smoothly given that advanced policies with respect to monitoring and management will be in place. The "noise" will be filtered out of these activities, meaning that non-critical issues will be prioritized lower than those that are potentially business impacting. As a result, resolution to problems will be more rapid, and potential down-time will be minimized. Should you elect to use a partner with a near-shore, and offshore delivery focus, you will recognize some substantial cost-savings benefits. In these times of economic uncertainty, relying on these types of providers makes a great deal of sense. By tapping into skilled labor in other parts of the world where wage arbitrage is at play, you will see that the overall cost of ownership for your infrastructure reduce quite significantly.
AmulyaInfotech carries rich expertise in areas of remote IT infrastructure management and support services. We provide a comprehensive set of best practices for IT service management, which helps to achieve business effectiveness and efficiency in the use of Information Technology.
Remote Infrastructure Management Services: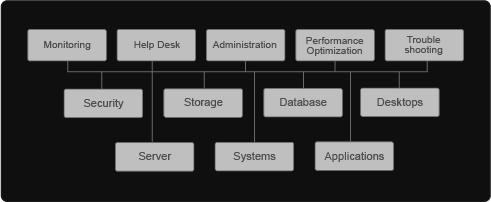 The current service delivery team offshore comprises of skilled resources in areas of:
Call Management and Helpdesk:
Helpdesk provides a single point of focus for all requests coming from the client environment and that associated information is maintained and reported in accordance with the Service Level Agreement. Call Life Cycle is managed through the following processes:
Initiating the call / Answering the call / Logging the call /First level support/ Call dispatch /Call monitoring and tracking/Call follow up and closure.
Desktop Management:
Operating System installation & Upgrades / Standard office suite installation and support / Administering Move, Add and Changes (MAC's) / Installation & Configuration Of layered Software / Addition & Configuration of printers and other peripherals.
Mail Management:
New account creation, deletion of id's, space management, password management, and authorization services on different platforms are offered.
Anti Virus Management:
Anti-virus software support / Upgrade and patch management / Deploying the latest patch across the installation either manually or through management software.
Database Management:
Database server administration, performance analysis and tuning services are provided. Access control and Backup rules are defined in consultation with the users and implemented for smooth and trouble free operation.
Backup and Archiving Management:
Backup & archiving is very important to any IT- infrastructure management for a smooth & trouble free operation. A complete backup schedule & log is created during implementation of managed service in consultation with the customer and the same will be updated on a daily basis to keep the track of complete backup. The following services are provided.
Partition level backup of UNIX Server / NT disk level backup with registry / Database Backup / On-line user file backup on Server / Individual user level back up /recovery of application, data and system software .
System Administration:
AmulyaInfotech provides comprehensive Server maintenance and support. Some of the important monitoring functions that may occur are:
Server CPU availability / Disk space utilization/ Disk swap ratio /Cache buffers / Memory availability /Memory swap ratio /Response time. Report can be prepared on key performance metrics on pre decided intervals like daily, weekly, fortnightly or monthly basis.
Network Administration:
Network management will provide the support required to operate, control and sustain the local area network environment. Services include:
Managing Hubs / Administering TCP/IP addresses / Network performance monitoring and proactive warning of network failure/ Monitoring the availability of servers / Monitoring network error rates / Maintain latest configuration and topology diagrams.
Vendor Management:
A support group consisting of AmulyaInfotech officials and customer representative is formed to interact with the third party vendors and the group is responsible for project evaluation, vendor selection and contract negotiation, and SLA preparation with external vendors. Calls to external vendor will be dispatched from the helpdesk and these calls will be monitored and measured including call escalation for unresolved problems.
Calls to a vendor may include other services under that vendor's contract like  software installations, upgrades, repair, problem escalation, etc.
Asset Management:
AmulyaInfotech will track and maintain a physical inventory of the I.T. asset database. Equipments that are generally considered, as an I.T. asset will include:
Desktop PC's / Notebooks / Servers / Network Equipment / Peripherals like external modems, scanners, printers and Software license, Media, Documentation, Manuals and IT related books. A monthly report is provided for the following:
Existing Items installed under asset database / New I.T assets added during assessment / Changes and discontinuation to the I.T. Assets performed by the Customer, with notification to the Help Desk / Changes and discontinuation to the I.T. Assets performed by AmulyaInfotech.